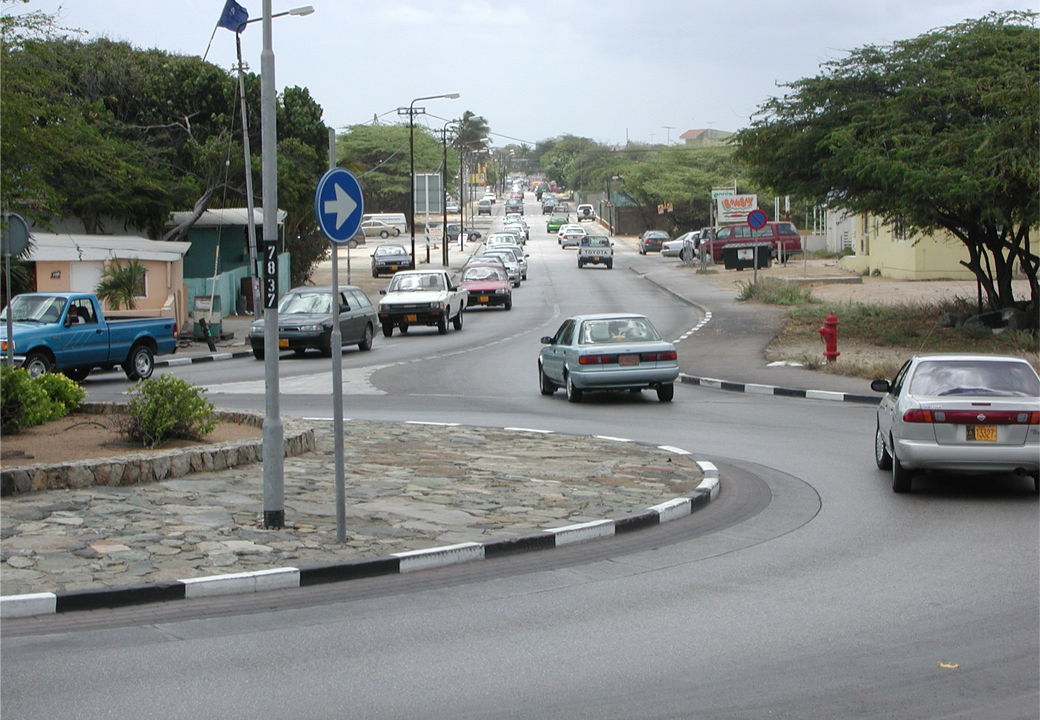 Nowadays, the world moves on wheels. In 50 years' time, important changes have taken place in the road infrastructure of Aruba. Dust roads have become asphalted, new roads were built, and roundabouts have appeared on major intersections. Currently, the road network covers close to a thousand kilometers of road. Unfortunately, the number of cars has also increased dramatically. Between 1991 and 2010, the number of cars owned by households more than doubled, surpassing the growth of the population. In 2010, each household owned 1.28 cars.
The motorization rate or the number of passenger cars per a thousand inhabitants is an indicator that is frequently used to denote economic development. In Aruba, in 2010, there were close to 500 passenger cars registered at the Tax Collectors' Office per a thousand inhabitants or close to one passenger car for every two inhabitants of Aruba. More recently, in 2014, there were 545 registered passenger cars per a thousand inhabitants, thus an eleven percent increase in a four-year period. Comparing the motorization rate of Aruba to that of other countries, we see that the motorization rate of Aruba is very similar to that in high income countries, but much higher than that in Latin American and Caribbean countries.
In addition to privately owned cars, company cars, cars owned by the government, rental cars, trucks, busses, and motorcycles also contribute to the daily traffic encountered on the road. If in 2010, all cars would have been jammed together, bumper to bumper, it would have covered a length of nearly 250 km, or a quarter of the total length of the road infrastructure on Aruba. In 2014, cars would have covered nearly 300 km of road.
Traffic congestion is not only related to the number of cars that are on the island. It is mainly attributed to the fact that in a relatively short period of time, early in the morning, at noon or in the late afternoon, there are a large number of cars on the road. This convergence of cars is related to traffic between home, school and work. Schools are concentrated in the center of Oranjestad, where each morning and noon, roads become cluttered. In the afternoon, employees returning home after work account for the excess of cars on the road.